Captain Junaid Hafeez Shaheed
On November 13, 2017, Captain Junaid Hafeez and Sepoy Raham embraced Shahadat in a cross-border attack from Afghanistan. Pakistani troops effectively responded to the cross-border attack, killing eight to 10 terrorists, while many were seen running back injured.
Sarfraz Ahmed, Captain of Pakistan Cricket Team, spent a day at the HQ of FC Balochistan to pay tribute to the Martyrs and Ghazis of FC Balochistan.
COAS, General Qamar Javed Bajwa watching the Cricket Match of Pakistan and India. General Qamar Javed Bajwa has also announced Umrah for Pakistan Cricket Team as a token of appreciation for their brilliant performance against India in ICC Champions Trophy 2017.
The Valiant Soldiers of Pakistan celebrating the victory of Pakistan Cricket Team in Champions Trophy 2017.
During an intelligence-based operation in FR Bannu on Thursday, Lt Khawar and Naik Shehzad embraced martyrdom after an exchange of fire with terrorists, the terrorists were also killed. Lt. Khawar is the first shaheed of Operation Radd-ul-Fasaad. Salute to our courageous armed forces for sacrificing their today for our tomorrow.
An IED exploded on Army convoy in Awaran, Balochistan. Three soldiers embraced Martrydom. The martyred soldiers were Captain Taha, Sepoy Mehtar and Sepoy Kamran. Chief of the Army Staff General Qamar Javed Bajwa also paid tributes to the martyrs said "3 more sons laid their lives for motherland at Awaran. None can deter our resolve to defeat enemies and safeguard 'Our Pakistan'."
Brigadier Mrs Nigar Johar is the third female officer to reach the rank of Major General in Pakistan Army. She hails from Panjpir village in Swabi and is the niece of Major (R) Mohammad Aamir, a former Pakistan Army officer who served in the Inter-Services Intelligence (ISI). Maj Gen Mrs Nigar Johar's father Colonel Qadir also served in the ISI. Swabi has produced a number of male generals, but this is the first time that a woman reaching this army rank also belongs to this district.
Gen. Shahida Malik and Shahida Badshah, first female Generals of Pakistan Army and the Muslim World. Dr Shahida Malik became the first female Major General of the Pakistan Army on June 17, 2002. Major-General Shahida Badsha is the first female officer in Pakistan Army to achieve the coveted three-star rank. Salute to all great ladies in our armed forces who overcome great difficulties every day and work tirelessly to keep Pakistan safe.
On January 16, 2014, a Mirage-V fighter aircraft of PAF crashed near Sargodha during a training mission. Flight Lieutenant Saad Salman and Wing Commander Jamal Afridi embraced martyrdom in that crash. Allah Almighty grant them with highest ranks in Paradise, Ameen.
Capt Yahya Abdul Samad Shaheed showed extra ordinary courage, bravery and valor during his two years of posting in South Waziristan. On January 8, 2014, terrorists attacked a Security Check Post which was successfully repulsed by Captain Yahya and our  security forces. As many as ten terrorists were killed due to valiant response by security forces. Captain Yahya embraced martyrdom in that attack and was awarded Sitara e Besalat for sacrificing his life in Operation Al Mizan.
The brave daughters of Pakistan Navy, committed to protect our coastal borders and Sea.
Umer Saji Shaheed, Director ISI, embraced martyrdom on 29th October 2014, while fighting with militants in Noshki, Balochistan. Umer was passionate to serve his motherland and after doing Masters in Economic Policy – from University of Boston, USA, he joined ISI. He fought many toughest Intelligence level and undercover operations and sacrificed his life while defending our motherland.
Haji Major Muhammad Zeeshan Suddle Shaheed embraced martyrdom on 14th Ramazan, 24th July, 2013. He sacrifice his life while fighting with terrorists.  It was Iftar time when terrorists attacked at Sukker ISI Office. Major Zeeshan Suddle told his wife to recite Darood Shareef and he left for his mission. He fought with bravery and received seven bullets in his chest and one in his nose. He killed all the terrorists before embracing martyrdom. May Allah elevates his ranks in Jannah. Ameen.
Captain Rana Arsalan Muazzam Shaheed was from 38 Cavalry Unit. He embraced martyrdom on December 19, 1994 in an Operation against terrorists in Karachi . Life has returned to Karachi, and we salute all our martyrs who sacrificed their lives so that we all live in Peace.
Lieutenant Shahab Hamid Bajwa Shaheed was from Haider Company,119L/c. After passing out, he took part in Operation Rah-e-Rast, he was injured while performing a task and returned as a Ghazi. On June 1, 2010, his Unit moved to Liberia on a UN Mission, where he was severely injured in an accident. He returned to Pakistan for treatment but couldn't survive and went to eternal world on November 29, 2010.
Farewell General Rtd Raheel Sharif and Welcome General Qamar Javed Bajwa. PM Nawaz Sharif announces General Qamar Javed Bajwa as the new Chief Of Army Staff. As we bid farewell to Gen (Rtd) Raheel Sharif, we wish our heartiest congratulations to Gen Qamar Javed Bajwa. May Allah bestow His gracious blessings on him and bring peace in Pakistan through his service. #PakArmy
Captain Taimoor embraced Shahadat in Kotli today, on November 23, 2016. Kotli is the district in Azad Jammu and kashmir. Pakistan. He was fighting against the Indian army at the LOC, line of control. Indian army is constanly targeting the Civilians and the Pakistan Army across the LOC.
Captain Qazi Jawad Ikram Shaheed adorned Shahadat at ALLAH O AKBAR post during the Kargil War on July 26, 1999, he volunteered to fight at the forward most posts, launched the assault on indians and took back Arshad post from them, where Lt Faisal Ghumman had embraced shahadat earlier. On 26 July he was ordered by the command to evacuate the post along with his men, unwillingly he moved back, but on the way back he realized that the national flag was still up there at the post , despite of heavy enemy fire he along with one of his comrades went back on the post in order to get Pakistani flag back …. while doing so Capt Qazi got hit in his chest by an indian rocket.
Capt Qazi embraced Shahadat , this daring attempt earned him Tamgha-i-Basalat .
A monument has been erected in between a mosque and a park in New Garden Town's Usman Block, in the memory of Captain Qazi Jawad Ikram Shaheed. The monument stands between two pillars with small, green minarets and has the first kalma inscribed on top. A smaller monument with the same inscription stands at the end of the lane.
On November 22, 2011, Captain Dr Faraz Malik got his first assignment in Almezan Operation at Orakzai Agency. He embraced martyrdom on the first day of his posting, in a conflict with extremists.
On Nov 22, 2012, Squardon Leader Bilal Babri embraced martyrdom, his aircraft crashed in Hasnainabad area of Shakir Kot in Jhang district. He was father of three cute daughters and his proud father and brother, both are serving Pakistan Air Force.
The brave Major Shoaib survived the Mi 17 crash with 90% burns.  After the crash, he pulled out crew members and saved their lives. He was evacuated to Kharian Army hospital, but he couldn't survive and embraced martyrdom on July 13, 2012. . His heroic act of saving his crew while he was 90% burnt, will always be remembered. May Allah elevates his ranks in Jannah. Ameen.
Major Ismail embraced martyrdom on September 13, 2015 while fighting against terrorists in Shawal. He was a brave soldier who received 'Imtiazi Sanad' during Swat Operation. On March 23, 2016, he was awarded with Tamgha-i-Basalat for showing supreme act of bravery and sacrifice for our motherland.
Lt Colonel Aamir Hameed Awan, an SSG Commando, embraced martyrdom during operation in Kohlu on 26th August, 2006. He was a brave soldier and was awarded Sitara-e-Basalat and Tamgah-e-Basalat for his bravery and great sacrifice.
Pakistani peacekeepers have left no stone unturned in the noble cause of helping humanity, building peace and bringing stability across the regions under the banner of United Nations.
Sipahi Basharat Hussain was a Courageous and Valiant Soldier. He joined the Elite Special Service Group on March  11, 1988. He was deputed at the Quaid e Azam Company of the SSG. On July 14, 1991, he was martyred during a gun battle at Siachen Glacier.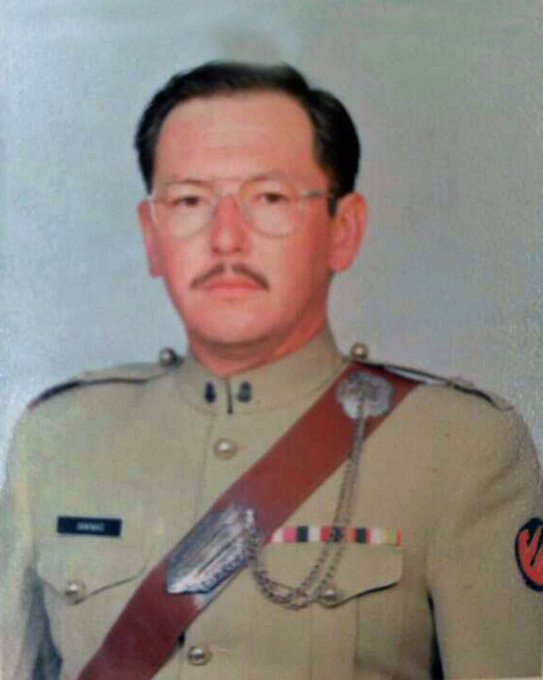 Major Ali Jawad Changezi embraced martyrdom on June 14, 2016 at Torkham when Afghan forces opened incessant fire at Torkham on an under construction gate on Pakistani side. Major Ali always wanted to be a martyr, and Allah Almighty accepted his sacrifice in the Holy month of Ramazan.
On the night of 30th-31st May 2013, Capt Hassan Javaid's Company was given a task to capture and take control over a strategically important Height Muhammadi Top in Kurram Agency.Capt Hassan volunteered himself for the difficult approach,scaled a rugged mountainous terrain for over 11 hours with combat load of approximately 30 Kilos, reached the target area in surprisingly short time,led his men from the front.He established contact with the Terrorists and fought for 1 hour and 15 minutes. In order to provide relief to the pinned down Companies, he diverted the terrorists' fire towards him. During the intense uncertain fight, he received a bullet in his face and embraced Shahadat right on the spot. Captain Hassan was awarded Sitara e Basalat for his bravery and great sacrifice. 
Captain Bilal Zafar embraced shahadat on May 17, 2009, after successfully capturing Ghuzano Sar Top in Peochar valley, Swat. One day after his martyrdom, he was buried in his native village Kehror Kotli Sattian on May 18, 2009. Government of Pakistan announced Sitara-e-Basalat for him on 62nd Independence of Pakistan.
It is very difficult to stand in the cold nights or hot sunny days, leaving behind your wife and kids for comfort of others. These soldiers are the reason we enjoy our Freedom and they deserve our Love and Respect.
Pakistan Army, sowing seeds of Peace for Safer and Peaceful World.
Rescue and Relief Operations of Pak Army in the flood affected area of Sind.
The brave soldier of Pakistan Army roaring like a Lion.
Ghazi Son of a Ghazi Father, Col Saadi Retd with his brave son Major Mamnoon.
Major Mamoon (Engrs, 109L/C) got seriously injured while defusing an IED.  He puts on his Uniform, 360 days after the IED blast on 20 Mar 2015.
Pakistan Armed Forces have always sacrificed their best of men in keeping intact the sovereignty of the Motherland. Lieutenant Colonel Tariq embraced martyrdom on March 1, 2016 as his helicopter crashed during a training flight at Tarbela near Rawalpindi.
COAS General Raheel Sharif meeting troops participating in the Manoeuvre Exercise in Cholistan Desert- (February 25, 2016).
Pakistan Navy conducts Exercise "TAHAFFUZ-E-SAHIL' to validate defence Plans for Jinnah Naval Base Ormara- (February 25, 2016).
Commander Lahore Corps Lieut General Sadiq Ali talking to troops during his visit to field firing range Tilla near Jhelum- (February 19, 2016).
Major Altamash Shaheed and Major Wasim Faisal Shaheed, embraced Shahadat on May 8, 2015, their helicopter crashed at Naltar, Gilgit.
Captain Mannan Ul Hassan embraced shahdaat in Bara Attk at the age of 26. He was posted in Mahsud Scouts on 27 December 2011 as "Ghazi Officer". During his short operational tenure, he participated in operation Mairasar and Bia Darghalam -IV, capturing Height 4 after a number of attempts and remained under shower of bullets and rockets by miscreants throughout the night, till capture of objective and physically killing 5/6 miscreants. He sacrificed his prime youth for our bright tomorrow.
The brave Soldier of Pakistan Army protcting our motherland at one of the highest and coldest battlefield on earth at Siachen.
General Raheel Sharif paying tribute to the martyrs of Gayari Sector at Siachin.
Lance Niak Mehfooz shaheed (Nishan-e-Haider) embraced Shahadat On 17th Dec 1971. He was serving in 'A' Company of 15 Punjab Regiment when war broke out in 1971. Lance Naik Muhammad Mahfuz was deployed on the Wagha-Attari Sector where his company was pinned down by unceasing frontal and crossfire from automatic weapons. Although his machine gun was destroyed by an enemy shell, Muhammad Mahfuz advanced towards an enemy bunker whose automatic fire had inflicted heavy casualties. Even though, his both legs were wounded, he reached the bunker and pounced on the enemy to stop, in the encounter he was hit with a bayonet. Due to serious injuries he embraced martyrdom on the night of 17 December 1971.
Major Muhammad Akram Shaheed embraced martyrdom on December 5, 2015 in the Battle of Hilli. During 1971 war, Major Muhammad Akram was commanding a company of 4 Frontier Force Regiment in the forward area of the Hilli, District Dinajpur Bangladesh (the then East Pakistan). This was a strategic position blocking enemy advance. Major Muhammad Akram kept enemies at bay for five days and nights.  In recognition of his personal sacrifice and selfless devotion to the defence of motherland, Major Muhammad Akram Shaheed was posthumously awarded the highest Gallantry Award of Pakistan, Nishan e Haider.
Ayesha Farooq, the fighter pilot of Pakistan Air Force with her colleague.
Flying Officer Mariam Mukhtar Shaheed with other brave officers of Pak Airforce.
26th November is the Youm-e-Shahadat of Captain Akmal Khan Shaheed (Siachen, 1986). He embraced Shahadat after successfully mounting a 'do or die' assault on the highest and most strategic Quaid Post. Unable to capture the post, the enemy in frustration fired an artillery barrage which injured Captain Akmal as he was hit with sharpnel and was stuck in the snow for several days. When the rescue party reached him, he was still alive but his internals were frozen. He later embraced Shahadat in CMH Rawalpindi.
Chitral scouts presenting traditional dance.
Chinese Special Forces Soldier greets General Raheel Shareef at Warrior-III Exercise.
Pakistan Navy's major maritime exercise Seaspark 2015 in North Arabian Sea.
Rescue and Relief Operations of Pak Army in the earthquake hit areas.
Relief Operation of Pak Army in Thar.
Pakistan Army Doctors treating injured of earthquake in Nepal.
The Female Officers of Pakistan Navy.
Pakistan Army Female Officers on Wagah Border.
Pak Army relief work for Flood Victims.
Broken Limbs, High Spirits. Soldiers at Armed Forces Institute of Rehabilitation Medicine (AFIRM), RWP.
Brave soldiers fighting with Talibans -Operation Zerb e Azb (1)
Brave soldiers fighting with Talibans -Operation Zerb e Azb (2)
F-16 Fighting Falcon of Pakistan Air Force. Phot Credits Pakistan Defence
Lady Cadet crossing water obstacle during training at Pakistan Military Academy-PMA
Pakistan Army Medical Officer providing medial treatment to patients in Indonesia during Tsunami 2005.